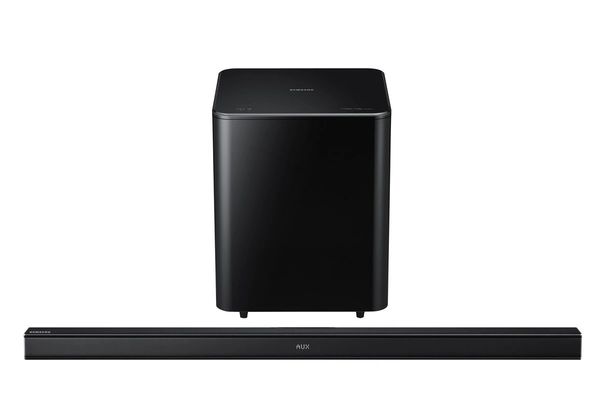 Samsung HW-H550
With a wireless subwoofer and connection to your Samsung 3D TV, the Samsung HWH550 is the clutter-free solution to superior sound!

ENVELOPING SOUND

Thanks to a quality amplifier that offers, "Crystal Sound Plus", the HWH550 offers exceptional clarity and more power than you might have expected from such a compact unit. In fact, with 320 watts to call on, the HW-H550 has little trouble in outperforming just about any TV's own onboard speakers. Matching this powerful amp is an impressive speaker array. This speaker array helps give the Samsung soundbar such exceptional detail and clarity. For an even more enveloping sound effect, Vertical Surround and Surround Sound Expansion modes give the impression of sound all around. With four DSP (Digital Sound Processor) modes you can also tweak the sound to your own preferences.

BASS TO MAKE THE ROOM SHAKE WITH A WIRELESS SUBWOOFER

Although the soundbar offers a powerful and engaging sound, for genuine, cinema style bass you really need a separate subwoofer. The wireless subwoofer that comes with the HW-H550 packs a potent punch, making all the difference with action movies now being felt as well as heard!

HDMI WITH ARC AND OPTICAL INPUT PLUS USB FOR SYSTEM FLEXIBILITY

With an HDMI input and output you can plug in your Blu-ray player and carry the picture through to your TV. Thanks to the ARC (Audio Return Channel) you also only need a single HDMI cable between soundbar and TV to hear the sound from the TV's onboard receiver. There is also an optical digital input for other sources such as a games console. Finally, a USB interface lets you play music files from a USB memory stick device.

BLUETOOTH CONNECTIVITY FOR YOUR SMARTPHONE OR OTHER MUSIC DEVICE

Bluetooth connectivity is standard, turning the soundbar into an impressive music player. Thanks to the built-in Bluetooth receiver, you can link your smartphone, PC, laptop or other device with Bluetooth and stream your stored or cloud based music - no wires required! It means that you'll not only enjoy superior TV sound but also have a quality system for your music, too.

WIRELESS TV SOUND CONNECT

When paired with a compatible Samsung 3DTV*, Bluetooth connectivity means there's no need for a cable between TV and soundbar. Furthermore, using a Samsung's TV remote effortlessly controls the soundbar's functions, for seamless ease of use. *Compatible Samsung TVs include (2014) LED Series 6200 or higher, (2013) LED Series 6400 or higher and Plasma Series 5500 or higher. (2012) LED Series 6100 or higher and Plasma Series 550 or higher.

For a better connected soundbar, look no further than the Samsung HWH550.